Fired up: New Menu Spotlights Flame-to-Table Cooking 
Posted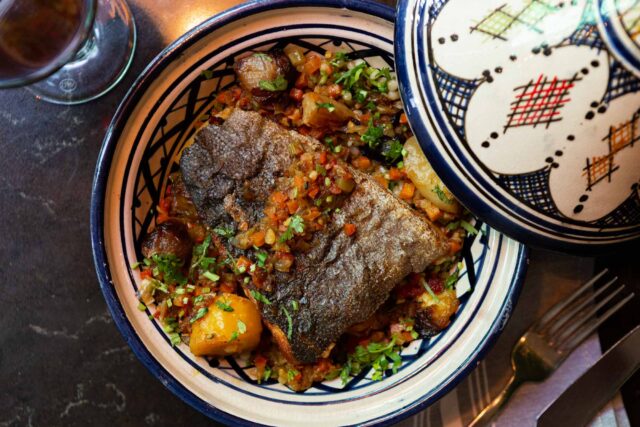 A true sensorial experience, stepping through our dining room doors to sample our new menu marks the start of a culinary journey spanning North Africa, southern Spain, Italy, Persia, Syria and Afghanistan (to name just a few). With aromas of burning wood and smoke greeting guests on arrival, the journey begins before diners catch a glimpse of our warm, eclectic interior — a small tease of what our Michelin-recommended haven has to offer. 
Once inside, it's impossible to ignore the jewel in Babel's crown: our 12-foot hearth, the restaurant's centrepiece and the key to our carefully crafted menu. At the helm, Chef Rosalin Keshishian draws on her Syrian roots, taking inspiration from family recipes while showcasing the breadth of ingredients and techniques that constitute modern Mediterranean cuisine.
here's to the hearth
The hearth is behind many of our newest menu items, given its integral role influencing everything from ambiance to flavour. Offering a three-dimensional approach to cooking — versus the unilateral heat source of the grill alone — wood is burned inside U-shaped iron bars called cradles, allowing embers to fall and feed the grills below. Beyond grilling, the hearth is used to char, slow cook and smoke, imparting flavour at every opportunity. 
Whereas previous menus scattered wood-fired dishes scattered throughout, the new menu dedicates a whole section solely to the hearth. Divided by land and sea, guests will discover seafood with a refreshing lightness that pairs immaculately with the smoky intensity of our fiery focalpoint. Rounding it off, an abundance of other halal protein options and sides offer even more choice.
Looking ahead, Chef Keshishian is eager to incorporate even more cross-utilization of the hearth throughout the menu, whether it be hanging marinated cabbage on hooks by the fire for a hearth-roasted salad or incorporating flame-cooked elements into pastas.
starting strong
The new starter menu swaps halloumi for saganaki, an equally delicious option of brined feta-adjacent cheese. Both roastable and grillable, the saganaki is slightly less salty than its predecessor, allowing for a smoother taste. The cheese is carefully seared and served with honeycomb and lemon, accompanied by a side of crispy pita to satisfy any number of samplers.
from land… 
Even with such a globally inspired menu, Chef Keshishian never fails to spotlight Ontario's bounty. She blends local produce with staple spices and global ingredients from trusted suppliers.
Case in point: our newest salads. Using greens grown by former O&B Chef Paul Senecal at Newmarket's Forty4 Farms, our whole burrata salad gets a fresh kick from field arugula, outshining anything diners have tasted from the supermarket. More local gems are sourced for the baby lettuce salad and heirloom tomato salad, which uses  juicy red delights from both Senecal and Tamarack Farms, a 390-acre working farm in Northumberland County. Macedonian feta and farm fresh herbs are added to the mix to deliver a bite that screams of the season's best.
Earlier this year, a new mushroom dish found its way from the hearth to the plate to create a vegetarian dish that's anything but predictable. Locally farmed hen-of-the-woods mushrooms from the mushroom masters at London, Ontario's Shogun Mitake, these super aromatic, dense and meaty wonders are grilled to perfection. Served alongside a cauliflower purée (which can be omitted to be made vegan), dukkah and a traditional Egyptian blend of nuts, seeds, and warm spices, vegetarians and meat-lovers alike will be hooked at first taste.
to sea…
Two new must-try seafood dishes include a 10oz swordfish steak and 10oz tuna steak, both featuring a housemade raw tomato sauce. Heirloom tomatoes are grated on a box grater, tossed with roasted garlic oil, salt and basil, hitting both Italian and Spanish notes. Once the fish is butchered, it's sliced and seasoned with the team's staple grill marinade. As the sauce is poured over the fire-grilled seafood steaks, the warmth of the fish cooks the tomato sauce through, allowing the flavours to intertwine.
Also new to the menu is a whole fish for those looking to relive memories of an evening spent dining seaside. Whole branzino is butterflied for guests to enjoy without having to worry about de-boning, leaving the head and tail intact. Exuding flavour and char from the hearth, notes of chili and roasted garlic are complemented by fresh parsley and lemon. 
Finally, we wouldn't be Babel without a tagine, which is both a dish and a vessel. This beautifully decorated clay crockery with a dome-shaped lid is used traditionally in Moroccan cuisine. Previously housing monkfish osso bucco, seared mahi mahi now takes the stage. Braised in vegetable gravy spiced with cinnamon and saffron, it's served atop couscous and delivers a hint of chili kick.
and beyond!
Inflecting traditional Italian cooking techniques with a little Middle Eastern flare, O&B District Executive Chef Andrew Piccinin has creatively revamped several pasta dishes. The rigatoni and meatball dish, a staple Italian dinner, uses handmade pasta made in-house at our sister restaurant Parcheggio, paired with a lamb kofta meatball and tomato sauce inspired by a spicy shakshuka.
The gnocchi dish offers a nod to the Middle East with a play on 'ma'akaroneh bel laban', the classic Middle Eastern dish of macaroni with yoghurt sauce. With a rich tartness, hen-of-the-woods mushrooms and truffle cream sauce coat pillowy potato dumplings, while a dollop of labneh adds a tangy kick. Topped with Parmesan, almonds or freshly shaved truffles if the mood strikes, it's another unexpected interpretation that fits seamlessly into the menu.
always evolving
Through impeccable service and delicious dishes — along with a tailored wine list, innovative cocktails and refreshing 'free-spirits' — we challenge the notion that Middle Eastern food needs to be served to go. Going beyond your local shawarma shop, we cook with age-old traditions and serve beautifully plated meals in a warm and inviting space where conviviality, the breaking of bread and the spirit of sharing mezze come alive.
As our menu continues to evolve with even more integration of the hearth on the horizon, there's much more to come for our North York treasure trove. See you soon!
Dining  Hours
Dinner
Tues + Wed: 5–9pm
Thurs–Sat: 5–10pm
Sun: 5–9pm
Weekend Brunch
Sat + Sun: 10:30am–3pm